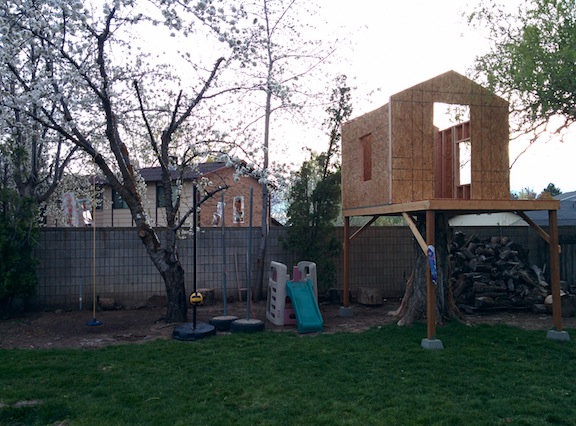 Author's note: We've had some excitement while building our family tree house. Here's where it all began. Here's an update from earlier this week. Below is where it stands today.
Today has been another big building day. Thanks to the help of some of our amazing friends Travis was able to get all four of our tree house walls built and standing.
Like some of you expected, with more progress came more posters. Oh and more smoke. Sadly the peace has ended.
While I have been disheartened this week about our backyard drama I have also found great comfort in the love and support of so many friends and family who have helped me laugh and listened to me cry (although we have mostly laughed) about all this mess.
My kids ran around all afternoon today playing with friends with those lame posters towering behind them. If someone new came by they'd briefly point out the ladies in lingerie, then they'd be right back playing as if those pictures were just part of the natural scenery.
Kids are amazing.
Seeing their smiles while they stood on the platform surrounded by their new tree house walls made all this recent drama worth it.
I don't know what's going to happen in the next several weeks but I know that we are going to keep playing in our back yard with our new tree house with our friends.
As long as they too can tolerate the new pieces of natural scenery.