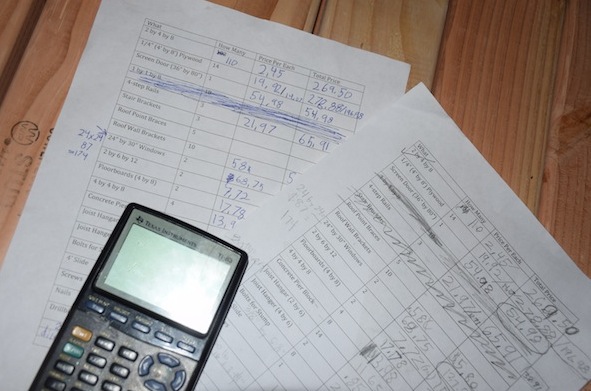 Budgeting. It's an important skill I wish I hadn't tried to teach my children lately.
I want them to know how to live within their means. I want them to think and plan out before making significant purchases. But taking them to Home Depot late at night with a long list of things we needed to price out was probably a mistake.
We have been dreaming of building a tree house ever since we moved into our new house and it actually had trees. Last fall my boys made a long list of things they wanted their dream tree house to include.
So this year we set aside some of our tax return money to buy stuff for the tree house. My husband drew up plans – we included most of my sons' dream tree house items – and we made a list of stuff we would need.
We had no idea how much everything was going to cost and we were anxious to see if we could get everything within our budget.
So I took the list of supplies we needed and typed them up in Excel. I printed out enough copies for each of our family members and rounded up some pencils.
We headed to Home Depot for family night.
At first it was great. My 9 and 7 year olds were really into it. They would help me find the lumber or the brackets or whatever else we needed and we'd each jot down the purchase price on our papers. Then we'd take turns using my cell phone calculator to figure out how much that would cost us for how much we needed.
It seemed easy.
But about thirty minutes in we lost control.
My three-year-old had to go to the bathroom. Twice. My husband took him while I stayed shopping with the other three kids. Unfortunately I don't know as much about building supplies as my better half. We wandered around aimlessly, wasting time, until he got back.
That's when our three-year-old no longer wanted to ride in the cart. The steering wheel of the orange car held no more appeal for him. He was NOT going to get back in.
So he started wandering alongside his brothers. Which probably would have been OK if his little sister didn't want to do the same.
Without her brother to sit by she wanted nothing to do with the car cart either. So there we were with four kids, six lists, and an empty shopping cart.
If only our little princess liked staying by us. She had a newfound freedom and took advantage. She ran around in front of us while we tried to find that last few things on our list.
But those last few things were hard to find.
Meanwhile, her brothers snuck homemade Harry Potter wands into the store with them. They were sick of writing on their lists so they started wizard dueling in the aisles.
We pushed the empty cart around our tornado of children for what seemed like forever.
When there were only a couple things left on our list my kids were exhausted. Let's be honest shopping – and shopping on a budget – can wear you out! (And we had been at the store for over an hour). Suddenly the car cart was enticing again. That's when all four of them climbed inside.
I pushed more than my own body weight around inside that little cart the rest of the trip. Which would have been fine except one of our wands went missing.
My oldest son tossed it into the cart and somehow we didn't notice it slip through the bars.
It was nowhere.
By now it's past bedtime and I've been pushing around my offspring back and forth, back and forth the entire Home Depot store retracing our steps…twice.
My kids were ready to be home, I was ready to be home.
We stopped by the customer service desk three times during our journey asking if anyone had turned in our tan colored homemade wand. To no avail. Young Harry was going to have to go back and get another one at Olivanders.
We left feeling depleted. Yes we were able to price out all of the things we needed. But we were forced to leave without our lost wand.
And what was even worse was we were over budget. Uggh.
My oldest added up all our items on the way home and we were at least $250 over. So we put the list away. We didn't want to look at it again that night. We went to bed hoping we could figure something out the next day.
That's when we looked at our supplies again and removed a few items that we don't HAVE to have. (Like fancy windows and a door. We can add those later. Maybe even with next year's tax return). Then I did some research and found some lower prices on a few of our items and Lowes as well as a couple of discount coupons we could use.
We were all thrilled when we totaled everything up again and we could afford what we needed.
Wahoo! This is really going to happen. Hopefully building the tree house together will be easier than budgeting for it was.
Our trip to Home Depot was crazy. It would have been much easier for me or my husband to go by ourselves. But I wanted to show my kids what it is like to figure out how to pay for the things we want.
I hope my children (at least the oldest two) will remember how we had to work together to be able to afford our new tree house. I hope they realize that sometimes you can't get everything that's on your list. And I hope they know that money doesn't grow on trees – especially ones with tree houses.