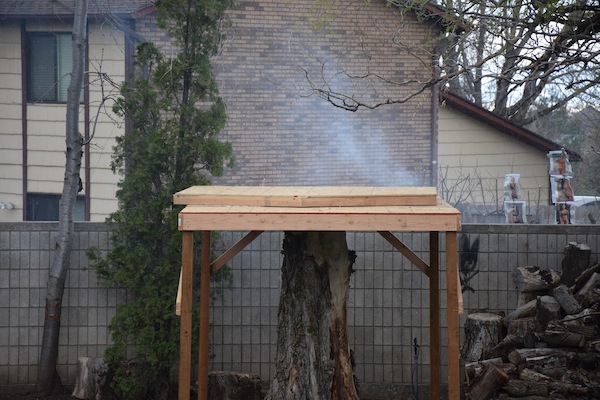 Author's Note: If you are wondering what on Earth I am talking about in this post check back with my post from two weeks ago. No, this is not a joke. This is my real, crazy life.
It's been almost two weeks since I posted about our neighbor slapping up nearly naked photos next to our family's unfinished tree house. Today I am pleased to report that the signs, which towered over our 6-foot fence, gawking at us in our back yard, are gone.
I don't know what happened.
We came home from spending several days on vacation to find them gone.
Hallelujah.
But I can't breathe a sigh of relief quite yet. In a way I am kind of nervous. The signs are down, so what's next? Passion like that doesn't disappear overnight.
In fact the week that the signs were placed, our neighbor took great care to ensure their impact. Naturally the wind and rain withered the paper posters and turned their rebar stakes. She would straighten and twist them back into place so the lingerie ladies were still staring us down.
That same week she started trying to smoke us out.
My heart was in my throat the morning I glanced outside to check on things and saw a grey cloud settling near the tree house's base platform. For a split second panic struck as I flashed back to the night last May when my parent's home burned down.
Thank Heavens it wasn't on our property. I quickly realized it was coming from her back yard. She started a fire right next to her side of our cement-block fence. This continued for several days. Fighting all natural instinct, I refrained from calling the fire department. I decided that would only fan the flames.
Ironically one of her concerns with us building the tree house was that it could catch fire and fall over her side of the fence.
But we haven't seen any smoke – or scantily clad photos – since we got back in town Sunday evening.
Do I think she is finished fighting? No. I doubt it.
I am guessing she may be waiting until we start building again to stir things up once more. That or she is waiting until we are served legal documents – she said she's going to take us to civil court.
This whole thing still seems like a crazy dream – kind of like Trump running for President. But it's reality.
I wish all of you could have seen my kids' faces the first day of building. They were thrilled. It makes me sad that all of this drama happened.
If only we could have kept building in peace.
But then again we've learned a lot of lessons since then – lessons on local law enforcement, lessons on city code, lessons on showing love to those who frustrate us and lessons on the definition of pornography.
For now we have decided to not only continue with our tree house plans (as soon as the weather and our schedules cooperate) but we have also decided to invest in a row of Thuja Green Giant Trees.
We're saving up so we can buy the fast growing evergreens to tower along the property line between our back yard and hers, creating a natural barrier. I hope we can get them this fall.
And I hope that they really will grow two to three feet per year.