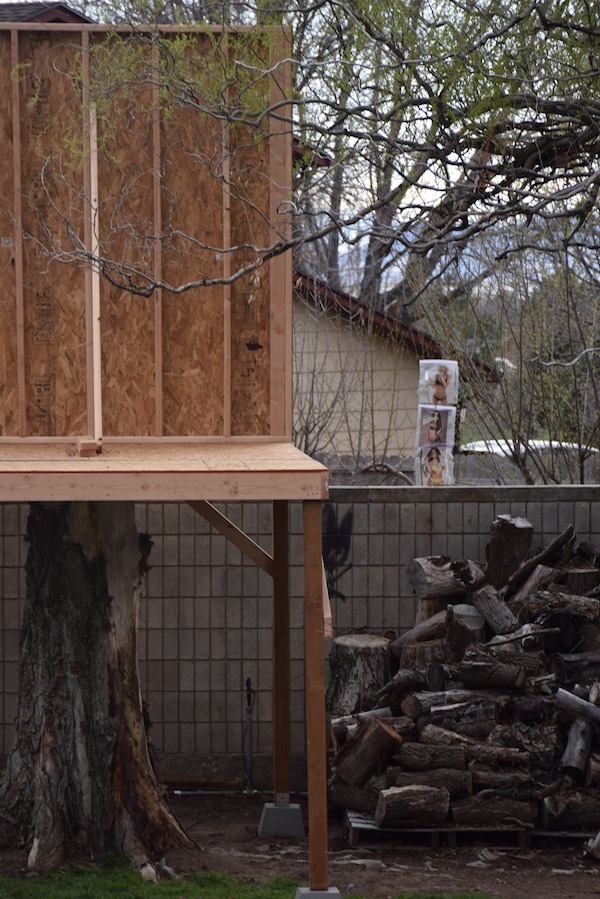 Before you start building your kids a tree house make sure you ask yourself one question: Am I OK with nearly naked photos being posted right beside it by my disgruntled backyard neighbor? If the answer is yes, proceed.
If it is no, don't even bother.
We started building a tree house last week. We've been dreaming of one for years. So when we got our tax return this year we set aside a chunk of money for the tree house fund. (Wait until you read my upcoming post about the night we learned all about budgeting for this tree house. Good times.)
Anyway, Travis and my boys drew up plans and made lists of all the things they'd like to include. Then we got to work.
We borrowed my brother's truck one night and made many, many trips to the hardware store- with tired, screaming children – in order to gather up all our supplies.
Then last Saturday we secured the posts, laid down the floor and put up the back wall. We were feeling great! We got more done than we ever dreamed of that first day.
But the next day we were deflated when we saw a note on our front door. Our backyard neighbor wanted us to call her about the "thing" we were building next to her fence.
She was upset. She was certain we couldn't build something like that. I'm not going to get into all the details about what she said, but let's just say there were concerns about us blocking her view, concerns for her and her pets' safety, concerns about a fire starting then spreading to her yard, concerns about my children antagonizing her animals, etc., etc., etc.
And she was certain we were in violation of city code.
So I researched codes online and headed straight to the city building office the next day to talk to the building officer. I got there 15 minutes after the offices opened and she had already spoken with him on the phone.
He assured me that as long as the tree house was less than 15 feet high, smaller than 200 square feet and didn't have electricity or plumbing we could proceed with our plans. And we didn't even need a building permit.
You could say we were a little ambitious with this tree house. As it stood after the first day of construction it was 15 feet 7 inches tall. So we're going to have to cut the wall down a foot or two. But the building officer said as long as we did that then we would be all right.
The next day I found out my neighbor started telling people that even if the city said it was legal for us to build the tree house she wasn't going to stop fighting it. I had no idea what that meant.
Until Wednesday night.
My kids came inside from playing in the back yard with their cousins to tell me that our tree-house-hating neighbor was blasting some Jamaican music.
Whatever. I told them she could listen to whatever she wanted and to leave her alone.
Then they came and told me she had put up some Disney pictures on a post over the fence. That intrigued me.
I peeked outside.
Those were no Disney pictures (bless my naive little boys). There were three nearly naked photos of women posted on a pole in her backyard right next to the fence and near the tree house. And that Jamaican music? It was some serious rap (once again bless my innocent boys).
Say what?? I called the police. I had a feeling there was nothing they could do but I wanted to document what was going on.
They came over and talked to me, then went and talked to her, then brought her over so we could all talk together.
But there was nothing either of us could say to change anyone's minds. She's ticked about our tree house and that's not going to change. I'm excited about our tree house and that's not going to change.
I did, however, say that I was sorry she was so upset. We had no intention of making her angry. I hadn't even ever met her until the police brought her to my front lawn. This was not a vindictive move. We just wanted to build a tree house for our family.
So here we sit with several sexy photos in our backyard skyline. (Where is she getting these pics anyway?) She has taken great care to make sure they will be there for a while by putting them in plastic coverings. If you come to our house, consider yourself warned. You may see more than you'd like.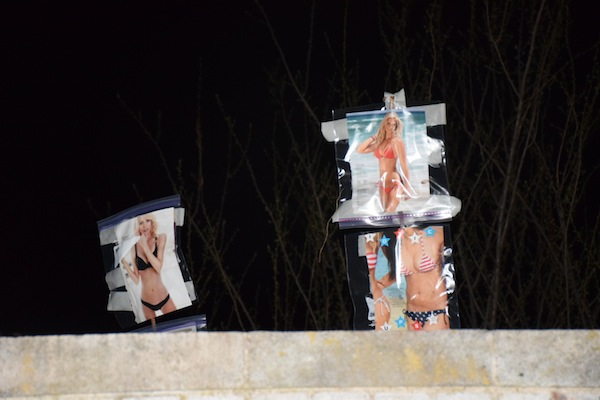 Last night she posted three more pictures and got two more posts ready for others. One of the scantily clad women is wearing a tiny American flag bikini. It reminded me about the wild presidential campaign going on in our country.
I'm not a Trump supporter, but if this gets really bad I think I'll ask him for some advice on how to build a wall … and then make her pay for it.
I debated about writing this post. Will she read it? Will it give her satisfaction? But then I reminded myself that I have never filtered my content on here before. This blog has always been about the real, raw aspects of motherhood – the good the bad and the ugly. I like to tell the honest truth – even if it is the naked honest truth this time.
The way I see it, those posters are actually helping our family. They are preparing us for when we take our trip to Europe. My boys are going to see all kinds of crap like this when we go to Italy.
So thank you disgruntled neighbor. Thank you.