What's harder than living with a broken heart? Watching one of your children try to live with one.
Earlier this week my son was sobbing before school. He didn't want to go. He has always hated school. In fact I wrote a few weeks ago about him trying to stay home after a class election didn't go in his favor.
But this time I couldn't figure why he wanted to stay home. I asked him if something had happened or if kids were being mean. No.
He couldn't come up with a reason.
All day long I stewed over what it could be. Is he nervous about his science class? Does he worry about kids sitting by him at lunch? Are they teasing him at recess?
Then it dawned on me. We visited the cemetery Sunday – the cemetery where his baby brother is buried. We took a water bottle and a kitchen knife. We cleaned off his head stone and cut back the overgrown grass from its edges.
It was a beautiful sunny day. But that trip brought back rain clouds for my 9-year-old son. The flood of emotions resurfaced as we spent time thinking of our lost family member.
This time of year is always hard for our family. Six years ago it was a hopeful, exciting time. We were waiting for our third baby boy to join our family. Then our joy quickly turned to sorrow as we discovered he had died. I delivered him stillborn at 37 weeks.
Since then our family has learned a lot about grief. More than we ever wanted to know.
I sat down with my oldest son Monday afternoon and we had a heart-to-heart talk about missing his brother. He confessed that he was overwhelmingly sad about not having him in our family.
Uggh. I hate that. More than hating the fact that I can't get over the loss of my baby boy. I wish no one else had to feel the same way. I wish no one felt hurt, anger or sorrow because of his death. I wish I could place a giant happy bubble around the ones I love and cocoon them from sadness.
Regretfully I cannot.
So I gave him a grief journal. I told him he could use it to write to his little brother. Part of our grief (because our child died before he was born) has been mourning the fact that we never got to spend time with our baby boy.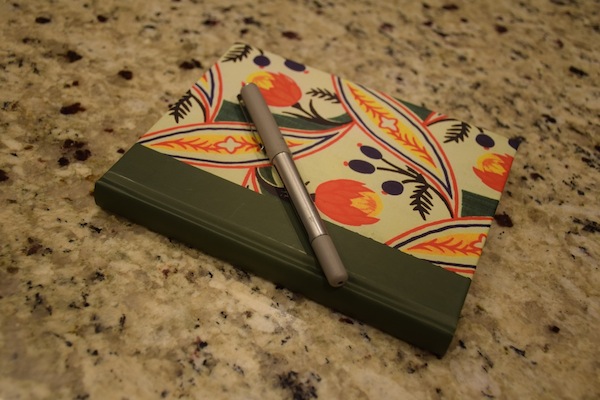 I my son that he could write to his brother about things he wished he could do with him. Tell him what makes him sad, happy, scared or excited. Tell him what he remembers about the day he was born. Tell him how much he can't wait to spend time with him.
We all know writing is therapeutic for me, why wouldn't it be for my child?
I'm hoping he can pour his heart into the pages of that colorful notebook. And that it will serve as a positive outlet for his sorrow.
There are a few other things I have found that help my children when they are consumed by sadness.
I am in no way an expert. I have no professional education or training on loss. I acknowledge that every person grieves differently. But the following things have helped my children mourn and internalize the loss of the brother they never got to know.
And since I can't create that happy bubble cocoon, I thought that the least I could do is pass on some of these ideas in case it may help another mother help her grieving child.
First, speak openly – Right after our son passed away I knew in my heart that I had to be honest with my two living children. One of them was nearly three years old, the other nearly two. They were really young. But I felt like they could handle the truth.
I told them that their baby brother died.
I refused to use phrases like, "he is sleeping," "he is in a better place," or "he passed away."
I didn't want them to be afraid to go to sleep. I didn't want them to think that our place wasn't good enough for their brother and I don't even know what "passed away" is supposed to mean. If I can't figure that one out, then how can my two young children?
There are so many phrases associated with death that are meant to lighten the blow. Words like "deceased" or "slipped away" are often used in place of "dead" or "died."
But nothing could lighten my blow. No matter how you said it my son had died.
Being open and honest with my children allowed me to eliminate confusion for them. I still speak freely and openly about his death. And they can as well. I answer all of their questions no matter how strange they seem.
We have had many, many conversations about what happened. And while I don't know that this is the right tactic for every family, it has worked wonders for ours. My children feel safe talking about their brother's death.
Let Them Cry and Let Them See You Cry –
Crying is healthy. Crying is natural. Yet sometimes we feel ashamed to show others that we are sad. It's like there is something wrong with us.
Well there is something wrong. Something terrible sad and terribly difficult happened. We buried one of our family members.
That is huge.
I tell my kids that there's no reason to pretend that we don't get down about it sometimes. They have seen me sob over my son. We have all hugged and cried as we have watched his memorial video or the home video we have of his time in the hospital or visited the cemetery.
Letting my kids show emotion about the loss of their brother has allowed them to work through it when it comes. It has minimized them bottling up their sadness.
Give Them Something to Hold on to – My oldest son has a wallet-sized picture of his brother that he keeps in a protective plastic sleeve. He sometimes puts it in his backpack or hoodie pocket and carries it to school.
It reminds him that his brother was real. It keeps him close to his thoughts.
He will put it on his bedpost or inside his wallet. He will show it proudly to others.
I think having a tangible object to hold close to his heart helps with the pain.
Start some traditions – I mentioned earlier that this time of year is difficult for our family. All around us the world is awakening from its slumber. New life is forming as winter melts into spring. While this brings a lot of hope and excitement, it also brings us memories from a darker time. The day that our baby died – April 22 – is particularly rough.
So we have started to do some special traditions to honor his memory – things that we can look forward to when we are feeling sad. (You can read about what we did a couple years ago here)
About one week before his death/birthday I create an online Facebook event for friends and family. I call it "Serve in Luca's Memory."
People did so many great things for us after Luca died. It brought us peace and comfort to see the service of others. So, we thought, why not help others? It can be a way to give back and keep his memory alive.
Friends and family members post pictures and comments of things that they do for friends or strangers. From helping a friend move, to donating clothing to others to sending someone flowers. It's so nice to see what people do for each other in his memory.
We spend Luca's "angelversary" together as a family. We visit the cemetery and take him small gifts. Sometimes we invite friends and family together to do a service project for Utah Share. Last year we planted a tree together at a local park.
Each year we end the night by sending lanterns to our baby boy. We light wish lanterns, watch them fill with hot air and then float off to the heavens.
Those are some of the things we do to celebrate our little Luca's birthday. They give us something to look forward to on our day of dread.
We do other things throughout the year as well. One thing we have grown to love is donating gifts to a child that would be Luca's age at Christmas time. We contact a local shelter for a name of a little boy in need. Then we buy him presents and deliver them to the shelter.
There is nothing we can do to bring back our baby boy. But helping and serving helps us feel like we are giving back to others who are having a difficult time. It softens our sad hearts and gives us things to look forward to.
I am sure there are many, many more ways to help children cope with tragic loss. But these are a few things that have worked for us. While I hope no one else has to see their children grieve the loss of a close loved one, I know that it happens to far too many.
If you know of any other great ideas – for children or adults – I'd love to hear them. Because grief is always changing and different things may work better at different times. I am always looking for more ways to work through the sorrows of my heart.