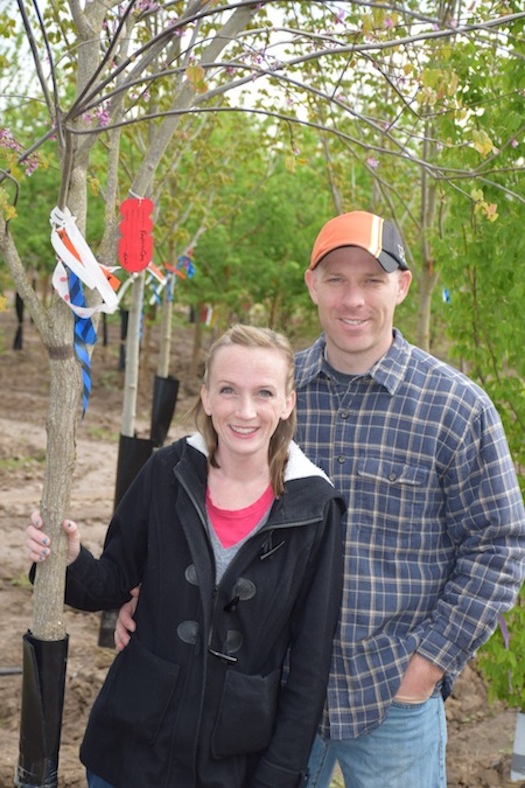 It's official. Luca's tree is dead. Or dying. Either way you look at it it's not good.
A handful of tiny blossoms popped out on top during the past couple of weeks. But nearly every branch is cold and bare.
Last year the tree was beautiful. This year it's gone.
The more I think about it the more the tree and its short life hauntingly parallels my experience with Luca.
In the fall everything looked beautiful.
In the spring it all was gone.
I remember praying that everything would be all right with Luca.
I prayed all evening on April 21, 2010.
I prayed that he would move, kick, twist, punch – anything!
I prayed until 2 a.m. when I could no longer lie in my bed and wait.
I prayed as we headed to the hospital.
I prayed when we saw the still ultrasound image of our baby's non-beating heart.
I prayed while in labor.
I prayed that entire time that Luca would live. That everything would be all right.
But it wasn't.
We have prayed for Luca's tree dozens of times lately.
We have prayed that it would blossom.
We have prayed that it would grow.
We have prayed that it would live.
But is hasn't.
How could something so beautiful die? How could it be just fine one moment, then perishing the next?
I now have an angel tree for my angel baby. How ironic.
It has reminded me of how much I learned with Luca. I learned that sometimes things are not meant to be. Sometimes prayers aren't answered – at least not in the way we want them to be. Sometimes you have to say goodbye.
The city is in the process of planting a new tree to replace the one that died. Our family went to the local nursery and picked out a new one.
This is where the story of the tree's death no longer parallels that of my baby Luca's.
Because no matter how many babies I could have, I would never be able to replace him. I can't go pick out a new Luca.
He is rooted in my heart forever.
While I am terribly sad that Luca's tree died, I am trying to look for the positive.
Planting that tree last year was a great experience for our family. It was a great way to celebrate our little baby's fifth angelversary. It gave us something to look forward to during that milestone birthday – something to plan for.
I don't know why the tree died, but I know it has reminded me that I should not take anything for granted. Boy how I need to be reminded of that over and over. It's a lesson I just can't seem to learn.
As I sit under the shade of that tree I'll think of these experiences and remember how much of a sacrifice it was to get it there. I'll remember our family's trip to the nursery to pick out the two separate trees. I'll remember how hard and clay-like the ground was when we planted the original one. I'll remember how beautiful it stood that first year.
I'll remember my little Luca. How hard it was to get him here. How brief his life was. But how beautiful he was in my arms.
He and his tree will be forever implanted in my memory.
Most people who play at the park probably won't think twice about the new Eastern Redbud in the corner near the bench and lamppost. To them it might be just part of the landscaping. To me it has become much, much more.