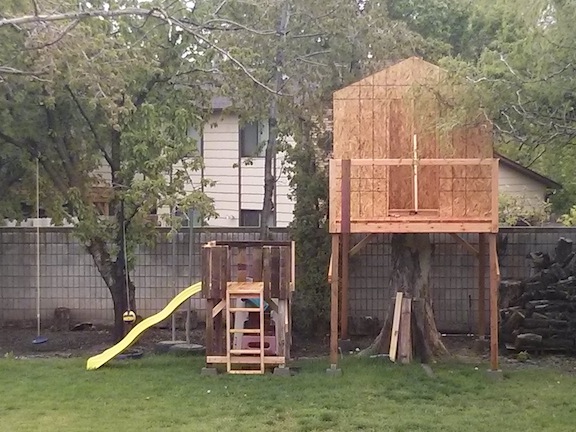 The white flag has been raised. The nearly naked pics are down. A truce has been called.
Call it a compromise, call it a deal, I don't care what you call it. Our neighbor has agreed to stop her shenanigans in our back yard.
I am thrilled! My husband is cautiously optimistic.
What happened? How did we get her to take down the 13 sketchy pictures you could see from ground level towering over our cement fence in our back yard?
I'm not exactly sure. But here's the Reader's Digest version of recent events:
A week and a half ago we decided to spend a Monday night family night working on the tree house. To make things go quicker, I cut a bunch of wood during the day so when my husband got home we could get working as fast as we could. We were hoping to get the rail and deck finished.
We worked for about an hour in peace – until our neighbor came home.
She was very upset. I'm guessing she expected us to work on the weekends but we must have caught her off guard by building on a Monday night.
Long story short, she shouted some terrible, terrible things through the fence and then above the fence after we kept ignoring her.
It was the first time that I realized I could no longer just dream that she would stop. I could no longer sit idly by. No longer was she simply quietly putting up posters and smoking us out (sure her music was loud sometimes but she wasn't). She had crossed a line.
I spent the next couple of days working with the police to see if there was anything we could do.
Meanwhile we were scared to go in our own back yard.
I decided that I was going to need to call the police every single time she did something – putting up more posters, blaring her "Jamaican music," lighting fires right next to our fence – anything that seemed like it was directed at us.
That's what the police said to do initially. They said to call them when she did anything else. But I was hoping that if I ignored her she'd lose interest.
I didn't have to wait long to call them again.
On Saturday she took down all the posters. We couldn't figure out what she was doing. But they were only down for an hour or so before she put them up again.
When I saw her haul them out of her shed and prop them into place again I called the police. Three officers came this time and said they'd go talk to her. As they were leaving I asked them if they would see if she would talk to me.
Crazy?! You may say that it was. I honestly don't know what overcame me. But I really felt like I needed to talk to her. I could no longer live in a place where I was terrified to go in my own back yard.
The officers said they would try to get her to meet with me but couldn't promise anything.
For whatever reason, she agreed. I took my kids to our friends' house and my husband and I went to her house to discuss the situation.
With an officer standing by I told our neighbor that I'd like to come up with a solution all of us could live with. I told her I wanted to hear her concerns about the tree house and see if I could address them. (I also told her that taking the tree house down or moving it were not options.)
Her concerns ranged from superficial – the tree house is an "eyesore" – to internal – it may catch fire.
So I offered to get some tall, fast-growing, narrow evergreen trees to block her view of the tree house. They would also create a windbreak and help prevent the tree house from falling into her yard.
I also offered to get a wireless smoke detector so we would know immediately if the tree house started on fire.
She said she'd take down the posters and light fires in a different area in her yard. (She had no idea that the smoke from her fires was bothering us.)
My husband also talked to her about her language and behavior from the Monday night fiasco. She agreed to stop.
She asked what we thought about her music. We told her we didn't care if she played it. It really wasn't too loud.
She took the posters down as we walked away.
Now I'm on a mission to find some tall, narrow evergreens. I've got a standing appointment with one of my favorite sales guys at our local nursery to go tree shopping when the weather finally clears up.
When the tree house is complete I'll order that smoke detector.
I still can't believe it's over. I don't know why she agreed to stop.
Maybe it's because she realized I decided I was going to keep calling the police on her. Maybe she knew it was a news reporter and cameraman who were knocking on her door last week wanting to do a story on this wild adventure. (We told the media we wouldn't talk to them unless she did.) Maybe it's because she was able to voice her concerns and we listened.
Certainly it's because so many of you have been thinking and praying for a resolution. The power of prayer is real.
I can finally look outside without seeing those lingerie ladies.
I'm certain you are wondering what was the reasoning behind the pictures.
We didn't ask but she felt like she needed to explain. She didn't put them up to get to our kids. She said we were putting up something trashy so she put up something trashy.
We are going to treasure our tree house even more because of all of this. And because hey, one person's trash is another person's treasure.