Stay Anchored. That's the theme our ward is using for relief society this year. So when planning the annual relief society birthday dinner it only seemed fitting to do a nautical theme.
I currently serve as the activities coordinator for our relief society. I have a wonderful committee that helps me plan and put on the best activities. Here's what we did to kick off last year, here's a fun service project we did last fall and here's what we did for our ward's Christmas party.
I couldn't do it alone. It takes a lot of work and a lot of planning to put on an activity. We held our dinner Tuesday night and it was a huge success. I'd like to share what we did.
Like I said, we chose a nautical theme.
I cut out pennants and letters on my silhouette machine to make a few banners. The big banner said "Live Life Anchored." We hung it in front of a navy bed sheet onto the bulletin side of a rolling chalk board using push pins. Then we took a roll of light blue and a roll of white tulle and pinned up some "waves." I also cut out some gold anchors which we tacked up and someone on our committee brought the cutest burlap ocean ribbon which we used to tie a bow on the side.
We hung smaller "Stay Anchored" banners in front of the doors with more tulle waves behind. The last banner we hung on a table next to the speaker's podium.
We used long white table cloths as a base for the tables. Then layered navy table toppers and light blue rectangles on top. We alternated red and gold/yellow napkins around the tables.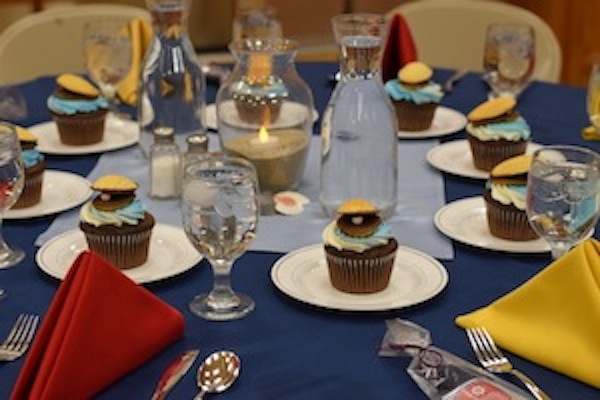 Someone on our committee brought sand and we filled glass vases with it then lit battery-operated tea lights to place inside for the table's centers.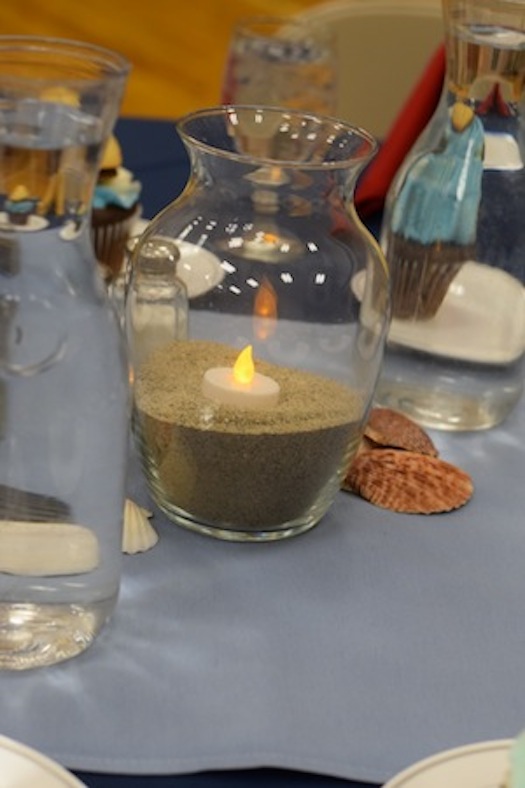 Someone on the committee made fabric keychain/lanyards for every sister. We put those in plastic sacks with a quote from Dieter F. Uctdorf inside.
We have a sister on the committee who is a professional chef. She made the most amazing food for the night. She also came up with the cutest, most fitting cupcakes. She made clams out of cookies and placed candy pearls inside. They were beautiful and perfect.
We wanted this dinner to be more elegant than most of our other activities so we used silver plastic silverware. Who knew they even made that? They look like real silverware but they are disposable! I found them at the dollar store. We also used disposable plates that looked like real china.
I used downloadable files from this site to print out a couple signs and make a poster announcing our evening.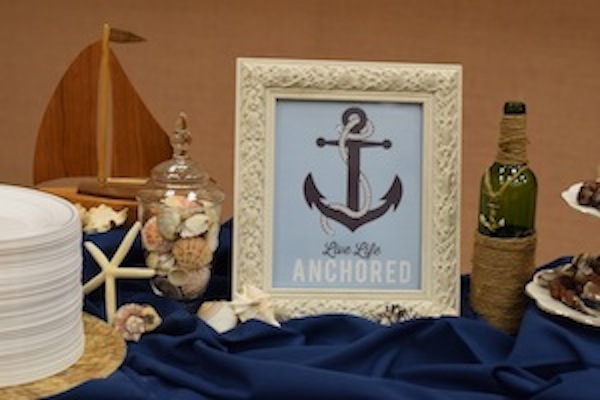 I can't tell you how good the food smelled that night. Our chef made several types of pasta and three types of sauces – alfredo, marinara and pesto sauce – that people could put together on their own plates. Then she had several toppings to add to the pasta – like bacon, mushrooms, sun-dried tomatoes and parmesan cheese. We also had chicken and salmon. Delicious! We were really spoiled.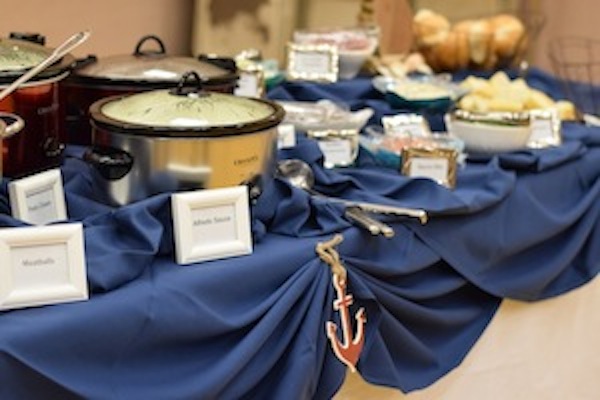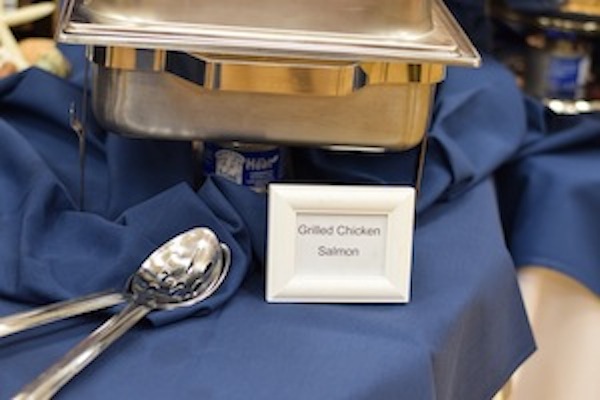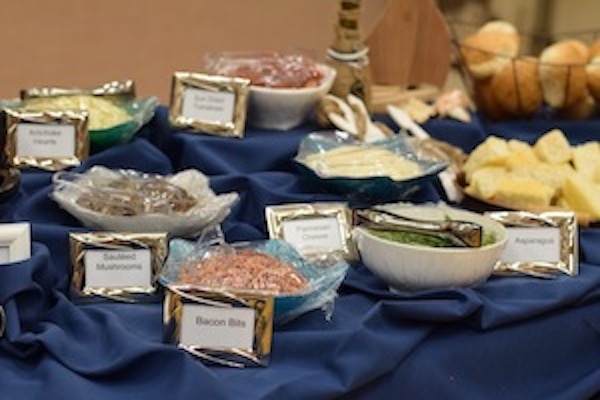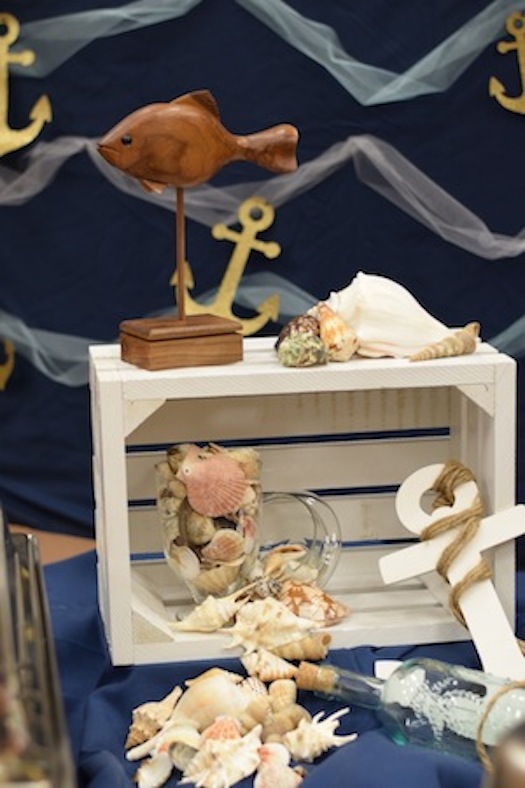 Sisters from the ward signed up to bring salads, salad dressing and bread, breadsticks or rolls. My mouth still waters when I think about how great everything was.
One of the highlights of the evening was getting to catch up with a dear friend that I haven't seen – except on Facebook – in years. I asked Jackie Hunt Herrin to speak to us. Jackie was Miss Utah 2001. She has received multiple awards for community service and work as a fierce advocate for organ, eye and tissue donation. She is truly and inspiration to me.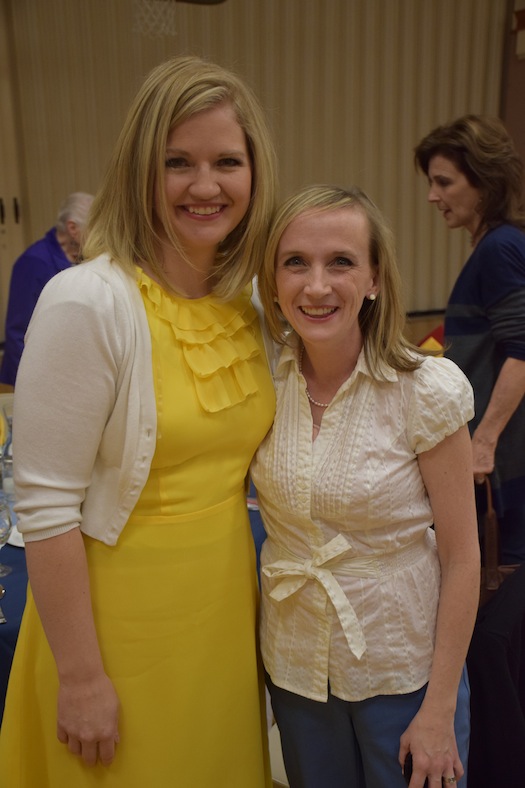 She was perfect! Through her words I was reminded that no matter what this world sends to me if I stay anchored to my savior I can be happy and work toward my eternal goal of living with my Father in heaven again. This life is full of experiences – good, bad, happy, sad – but that's why I'm here. To learn and grow and help others on our way back Home.
I am so grateful for all the people who helped make our relief society birthday dinner such a success. I left feeling rejuvenated and ready to tackle the winds and the waves.