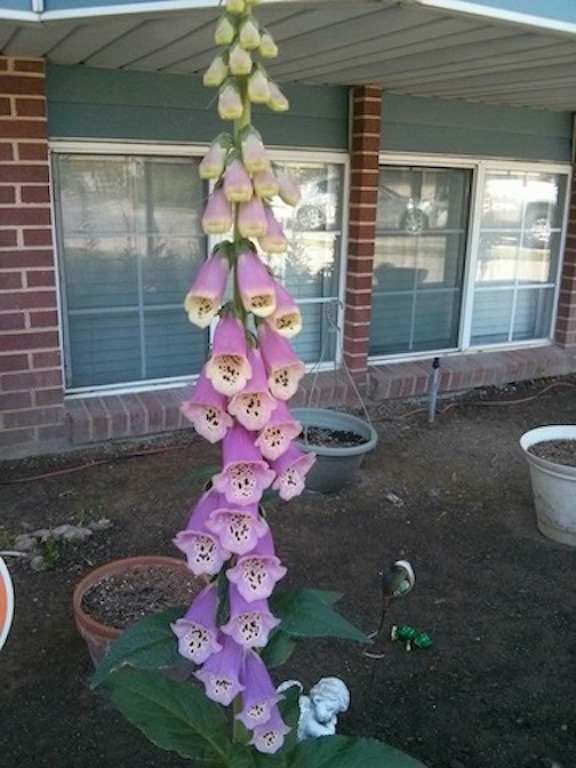 Planting seeds. Just add that to the list of ways I am unintentionally risking my children's lives.
Less than 24 hours after admiring how beautiful and mesmerizing my newly blooming Foxglove plants were I had decided rip them out and toss them in my green waste garbage can.
And I am sad about it.
I had grown the fantastic bell-shaped flowers from seed last year. After waiting for more than a year they finally bloomed magnificent. I picked them for their freckles – just like us. Our family members each have freckle-specked cheeks just like the insides of the beautiful Foxglove bells.
But shortly after posting a picture of my new blooming garden online a couple family members warned me that the flower might be poisonous.
So I took to the Internet and was sickened by what I found. Sure enough the foxglove plant is: HIGHLY TOXIC, MAY BE FATAL IF EATEN!
Apparently any part of the plant – leaves, seeds, roots, flowers – can be fatal if ingested. It can stop the heart. There are also cases of people having severe allergic reactions to simply touching the pollen.
Great.
Just add planting these in my front flowerbed to the list of mistakes I have made as a mother.
In my defense I pulled out the seed packet I bought at our local nursery to inspect it for warning labels. NONE. You would think that companies would have to put a warning on a poisonous plant.
I called the seed company to ask them why they didn't have to warn people that the seeds they are purchasing develop into poisonous plants. The simple answer they gave me was because it isn't the law to do so.
The lady I talked to said that ultimately it is the customer's responsibility to research what they are purchasing and planting and the effects it may have. She said there are a lot of plants that if you eat them they are going to hurt you and that you have to teach your children not to put that type of stuff in their mouths.
She must have children that do exactly whatever she says. Mine, however, do not.
Kids will be kids.
I'm not going to lie I thought about keeping the flowers and teaching my children to stay away from them. But then I remembered what my oldest son did less than six months after we first moved to this home. He mixed himself up a plant drink from berries in our yard then lied about it when it burned his throat so bad he couldn't eat. You can read all about that here.
But the Foxglove plant would stop my child's heart – not simply irritate his throat.
How would I feel if something happened to one of my kids, or anyone else's kids for that matter, and I knew this was a risk?
I carefully store my fertilizer, bug spray, harmful medications, household cleaners and other toxic materials up and away from little ones, how can I keep these toxic plants within arms reach?
I can't.
So I'm going to rip them all out today.
And then I'll probably cry.
I stopped by the local nursery last night to find a non-toxic replacement for the Foxglove. But I ended up stressed out walking down the shaded perennials aisles – wondering if any of theses plants were poisonous too.
I bought a couple of Hostas and that's it.
I came across a helpful website in my research on Foxglove plants. From now on I'm going to check it out before planting or growing anything. I urge you to do the same.
If there are no laws about companies placing warning labels on harmful plants then it's up to us to make sure we aren't planting any.
My two youngest children and I each picked one of the Foxglove flowers yesterday and were admiring them up close. It makes me sick to think of what could have happened had one of them had eaten their flower.
From now on I'm going to know before I grow. Let's hope I don't accidentally plant any more poison.