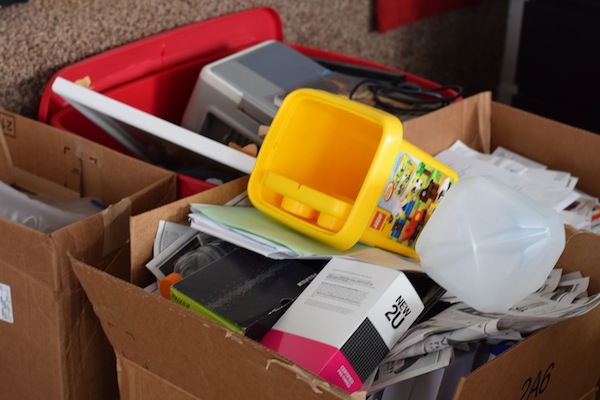 Organize your life they say. It will be fun they say. It will be easy they say. Ten easy steps. Five minutes a day. Everywhere I turn I see articles, posts, pins, and more, telling me to de-clutter, reorganize and simplify.
So I started.
I dove right into my closet and office area. It took me hours and days to get through the paperwork and decorations I needed to look at.
And it was not easy and it was not fun.
These articles are misleading. They don't tell you that it's going to get much worse before it gets much better.
They don't tell you how you are going to get sick of staring at your kids' schoolwork while trying to decide which homework sheets to save.
They don't tell you how your one-year-old is going to "help" you organize things while crawling and scrambling papers all over.
They don't tell you how you are going to be elbow-deep in picture frames.
They don't tell you that a small pile of nick knacks can take up your entire living room floor.
After pulling out all the things I wanted to sort through I had stuff lined up in different piles all over my master bedroom. And then I had to figure out where to put those piles.
It took me forever.
Yes. My office looks amazing. The desk has never been that empty and organized. Ever. My closet on the other hand still isn't finished. I didn't even touch my clothes.
But I can't do it right now. I really want to de-junk the rest of my house – because I really only got through half a bedroom – but I've got to take a break. I'm just not good at this sort of thing.
Maybe I'll pick it up again next year. When another round of new-year's-resolution articles circulate online.
But then again. Maybe not. Maybe I'm OK with the clutter.